Government Bio Fuels and Hybrids - where are we today?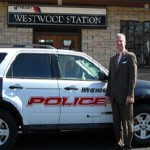 You've seen the headlines. Hybrids work! Hybrids save money! Hybrids save fuel, and hybrids reduce pollution! But you wonder, do they really?
For the past two years, New York City has been using Ford Escape hybrids as taxicabs. That is one of the toughest tests in the country. The hybrids are surviving and prospering. Cabbies make more money per shift driving hybrids because they use less fuel. As of November 28, 2007, more than 200 Ford Escape hybrid taxicabs have reached the 120,000-mile mark.
On March 20, 2008, representatives of the Ford Motor Company reported that the first 18 hybrids delivered have just passed the 200,000-mile plateau. In San Francisco, 9 hybrid cabs were put in service three years ago. A few of the hybrid cabs have already exceeded 300,000 miles.
The Borough of Westwood, New Jersey, and Ogden City, Utah, have taken the bold step of showing that police departments can use hybrids without problems as patrol vehicles. Naysayers declare that it costs more to repair a hybrid than a regular vehicle. That may be true; however, the cost in fuel savings more than offsets the cost of repairs for the vehicle.
WHY'D WESTWOOD DO IT?
Westwood is the first local government on the East Coast and the second in the United States to use a hybrid vehicle on patrol for its police department. As of April 22, Westwood's police hybrid had 10,244 miles on it with no repairs. From an economic and environmental perspective in a community that is fully developed, a hybrid police vehicle makes sense and saves money. Westwood is just such a mature and fully developed community.
The New Jersey attorney general has issued extremely strict guidelines on police pursuits. Exceptions can be based on circumstances, but high-speed chases do not occur in Westwood because the borough has a lot of traffic lights and a growing amount of congestion.
All of the traditional vehicles in the borough's police department average 8 miles per gallon (mpg). On patrol, the Crown Victoria, which makes up the majority of the borough's police vehicles, averages 6 mpg. The 2008 Dodge Charger, which is supposed to be fuel efficient with its eight-cylinder engine that runs primarily on four cylinders and supplies additional power when needed, is averaging 8.3 mpg. The hybrid uses no fuel when stopped or moving at speeds under 25 mph. A nickel-metal hydride battery acts as a secondary engine, supplementing the traditional gasoline engine. The battery is recharged through a transfer of energy from braking, known as "regenerative braking."
What drove Westwood to buck tradition and incorporate a hybrid vehicle into its fleet? In the spring of 2007, economists were predicting that fuel prices would hit $4.00 per gallon in the summer. They were one year off. If gasoline prices had reached $4.00 a gallon on July 4 and stayed there, the borough would have exhausted the money in the police department's fuel budget on August 22.
We were lucky during 2007 because fuel prices did not reach that level. In 2008, due to the growing worldwide demand for oil, $4.00 per gallon fuel will probably reach the New York/New Jersey metropolitan area by Memorial Day 2008. In the first quarter of 2008, Westwood's mayor and council recognized the imminent probability that crude oil would reach $100 per barrel. Just as the 2007 mayor and council did, they unanimously approved the recommendation to purchase a second Ford Escape hybrid for police patrol.
The borough's 2008 Ford Escape hybrid was delivered in October 2007 and was placed in service on October 25. On October 15, the borough had been paying $2.40 a gallon for unleaded gasoline. The hybrid immediately registered 20 mpg. Westwood realized an immediate savings of 14 gallons of fuel per 12-hour shift. At $2.40 per gallon, that equals $33.60 per shift, $67.20 per day, $403.20 per week, and $20,996.50 per year! Over the course of a year, Westwood's police vehicles average six days of use a week. On April 21, 2008, the borough paid $2.98 a gallon for its bulk gasoline drop. At 20 mpg, this means Westwood's hybrid is now saving $41.72 per shift, $83.44 per day, $500.64 per week, and $25,334.10 per year. The borough paid $28,772 for the Ford Escape hybrid, and at $2.98 per gallon, the hybrid will pay for itself in 11.5 months.
At approximately 4,800 miles, when the engine became fully broken in, something remarkable happened. The fuel economy of the hybrid began to increase. The hybrid is now approaching 25 mpg. If this continues, Westwood will save 19 gallons of fuel (25 minus 6 equals 19) per 12-hour shift compared with the Crown Victoria. The savings for our taxpayers is stunning. Let's be extremely conservative. If $2.50 per gallon and 25 mpg is used, Westwood saves $47.50 per shift, $95.00 per day, $570 per week: $29,640 per year! These calculations are based on using the vehicle six days per week.

STILL MORE TO CONSIDER
The Ford Escape shown in the picture on page 16 cost Westwood $28,772. The payback in fuel cost savings will be 11.65 months or 349.5 days. In other words, the savings in reduced fuel use (11,856 gallons of fuel saved, multiplied by $2.50 per gallon, saves $29,640 per year) means that the hybrid has paid for itself in less than 12 months. The patrol vehicle saves citizens money every hour that it is on the road.
The Dodge Charger costs $30,473.92 or $1,701.92 more than the Ford Escape hybrid. This equates to paying 5.9 percent more for a car that gets 11.7 miles to the gallon less than the hybrid. The Dodge Charger costs the residents of Westwood $24,510.56 more per year to operate than a Ford Escape hybrid.
As fuel prices increase, the payback period will decrease. At $2.75 per gallon, the payback period will be 10.59 months or 318 days. At $3.00 per gallon, the payback period will be 9.71 months or 291 days. The Figure 1 spreadsheet shows the fuel and dollar savings at various per-gallon costs.
Police Chief Frank Regino, a borough resident and taxpayer, should be commended along with the mayor and council for having a progressive outlook. He says, "It is my responsibility to continually seek innovative and cost-effective ways to operate our police department. In doing so, I must remain sensitive to the effect that our operation has on taxpayers. In March 2008, fuel costs were $2.81 a gallon. The department consumes more than 300 gallons of fuel per week. The decision to try the hybrid was and still is an easy one."
Two police officers have been assigned to use the hybrid on patrol. Officer Matt McClutchy is the largest officer in the department at 6'3"and 245 pounds. The other officer is James Quaglino. Both report that the vehicle is extremely comfortable to operate, and they have been surprised on how little fuel it consumes during a 12-hour tour. Officer McClutchy put 1.9 gallons of fuel in the tank after one of his 12-hour shifts. He had driven the vehicle 55 miles during that shift, which comes out to be 28.9 mpg. We look forward to being able to report in the future that this increase of miles per gallon has become the standard and is not an aberration. Officer Quaglino is pleased with the maneuverability and turning radius of the hybrid. He also has studied the hybrid technology. A number of local high school and college students have stopped to ask him about the hybrid, and he knows enough about the technology to explain the car's benefits to them. One of Officer Quaglino's children asked about the hybrid's regenerative braking system. The Ford Company's Web site provided the answer. The officer also reports that the hybrid does not scare deer at night. Because there is no noise from the engine, deer just hear the sound of the tires rolling along the ground and look up. They don't become startled and run to or from the vehicle.
One of the largest radio stations in the New York metropolitan area, WCBS News Radio 880, sent a reporter to Westwood to file a story about our hybrid. The reporter, Sean Adams, went for a ride in the vehicle. He filed a series of reports about the hybrid, which can be found under the archive section of the paper's Web site at www.newsradio880.com.
After hearing about the series of reports on News Radio 880, Westwood residents began stopping borough officials to tell them how pleased they are that Westwood purchased this new patrol vehicle. Police officers report that residents flag them down to look at the hybrid and talk about it. So, in addition to its fuel savings, the hybrid has become a public relations tool that helps the police break down barriers and interact with residents in a positive way.
An article was published in the February 2008 issue of Municipalities, a magazine published by the New Jersey State League of Municipalities. From February 1 through March 20, Westwood received 44 inquiries and requests from other local governments to see the hybrid up close.
On March 18, 2008, NBC News sent a television reporter to Westwood to file a story on Westwood's hybrid police vehicle. The story ran on the Today television show on Monday, April 21. It was also on NBC News in the evening that week during a special segment titled "Going Green."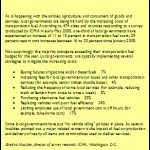 WHAT'S AHEAD?
Westwood's 2008 governing body, composed of Mayor John Birkner, Jr.; Council President Cindy Waneck; and Councilmembers Peter Grefrath, Robert Miller, William Phayre, Ingrid Quinn, and J. Sciara, is providing the leadership, encouragement, and funding to ensure that Westwood is a laboratory of innovation in local government. Westwood is using technology to help hold the line on taxes and spending while serving and protecting the health, welfare, and safety of its residents.
On March 18, 2008, the mayor and council authorized the purchase of a second hybrid vehicle for the police department. A Toyota Highlander hybrid will replace a 1998 Ford Expedition that currently gets 3 mpg. The Expedition currently pulls an emergency services trailer and delivers the digital message board to different locations around the borough. The Highlander hybrid has a 270 horsepower engine plus a towing package and is expected to get 23 mpg. Westwood anticipates saving 20 mpg once the Highlander is placed into service. The Ford Escape does not have a towing package.
On April 1, 2008, the mayor and council authorized the purchase of a third hybrid, a second Ford Escape to be used on patrol.
OTHER SUSTAINABILITY PLANS
In 2007, Westwood spent $540,700 on utility and fuel costs. Our goal is to move off of the energy grid and become a sustainable community within six years. Westwood will soon be installing a micro water turbine to produce kilowatts from a swift-moving brook.
Other projects that will soon come to fruition include:
• An energy audit of all municipal facilities.
• Bidding out energy needs with at least eight other local governments.
• Geothermal systems to replace old boilers and HVAC systems.
• Wind turbines.
• Solar power systems.
• Purchasing additional hybrid vehicles.
• Synthesizing our own bio-diesel fuel by using recycled cooking oil from local restaurants and homes. This summer we will be testing and improving our community-wide collection system.
There are 664 local governments in the state of New Jersey and more than 550 police departments. If each department purchased one hybrid and averaged 25 miles per gallon with that vehicle based on $2.40 per gallon, the taxpayers of New Jersey would save $15,649,920.
If 2,000 localities across the United States followed the example of Ogden City, Utah, and Westwood, New Jersey, and purchased one hybrid for each police department to use on patrol, based on 25 mpg and $2.40 per gallon (a conservative price per gallon estimate), the residents of those communities would save $56,908,800.
There would also be a dramatic reduction in hydrocarbon emissions into the air. Other benefits are fewer respiratory illnesses like asthma; bluer skies; cleaner water; and less noise. (As noted earlier, hybrids make no noise when running on their battery power).
Westwood invites its sister communities to join the more than 200 communities managed by ICMA members who are already implementing sustainability initiatives. Our combined efforts will reduce reliance on fossil fuels, save taxpayers money, reduce respiratory diseases, and decrease air and water pollution.
We owe our best efforts to our children and grandchildren so that when they inherit the stewardship of the planet, they will find a blueprint in place showing the way to solve problems in harmony with both the human race and nature. Working together, local governments will be able to create cleaner, greener, and safer communities! Working together, local governments will make a difference that will ensure the health, well being, and safety of future generations.
Robert S. Hoffmann is an Advisory Board Member of Municipal Solutions™, llc and serves as a Senior Consulting Associate specializing in Government Efficiency, Procurement and Public Policy. He currently serves as Borough Administrator for Westwood, Bergen County, New Jersey, lectures at Rutgers University and has worked on Wall Street. He can be contacted at rhoffmann@municipalsolutions.org or hoffmann@municipalsolutions.co.uk.